May 2017
Bruneel Point S Selected as 2017 "Dealer of the Year" by ASA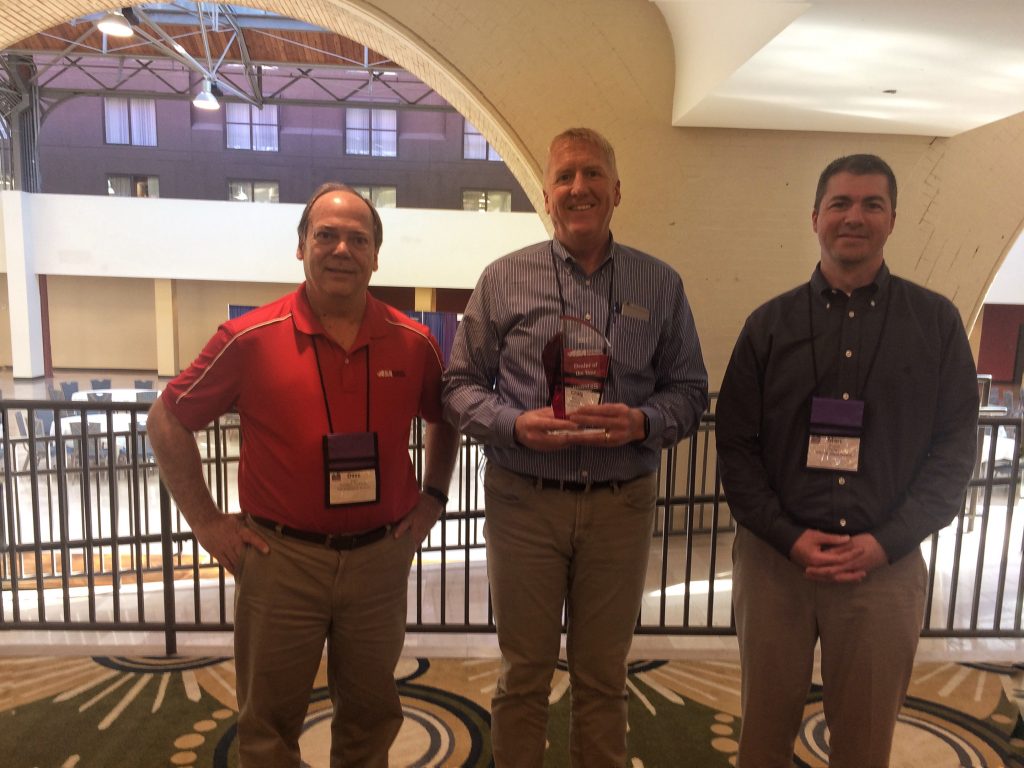 Boise, ID based Bruneel Point S Tire Auto Service, has been awarded the 2017 "Dealer of the Year" award from ASA Automotive Systems. Mr. Craig Bruneel, President, Bruneel Point S, accepted the award from Dave Vogel, Executive Vice President, ASA Automotive Systems and President of TireMaster at the ASA User Conference in St. Louis, Missouri.
The ASA Dealer of the Year award gives special recognition to a customer who has proven to be a strong advocate by embracing technology and innovation, and assisting ASA in driving the development of its software solutions forward.
"Bruneel Point S is a consistent early adopter of new ASA tools to streamline operations, increase staff efficiency and shop revenue," said Dave Vogel, Executive Vice Presdient, ASA Automotive Systems and President of TireMaster. "We would like to thank Craig Bruneel's involvemet with ASA's customer advisory council for guiding product development in particular of G4, a web-based, mobile POS tool, and TireMaster GTX, our new POS and accounting software for multi-location retail and wholesale businesses.
Bruneel Point S has been a customer of ASA since 1993. Bruneel Point S operates 12 locations in the Boise, Meridian and Nampa area, and advertises the best tire warranty in the West.
About ASA Automotive Systems
ASA Automotive Systems, Inc., based in Merrimack, NH and Meridian, ID, is the leading provider of software to independent tire dealers and automotive service providers, serving retail, wholesale, commercial and retreading enterprises. ASA's TireMaster software family is a modular system centered on a strong accounting platform with integrated point-of-sale, inventory, financial and general management tools, helping businesses improve operations, reduce costs and increase profitability. For more information, contact 866-210-6717 or info@asaauto.com, or visit www.asaauto.com.
About Bruneel Point S
Bruneel Point S has been serving the Idaho regions of Boise, Meridian, and Nampa with quality tires and auto services since the 1960's. Bruneel Point S offers a full range of quality automotive, commercial and wholesale services allowing them to serve the needs of thousand of individuals and business customers. For more information visit The Bruneel Point S website