September 2018
13 ASA Customers Named in 2018 Modern Tire Dealer Top 100 Dealer List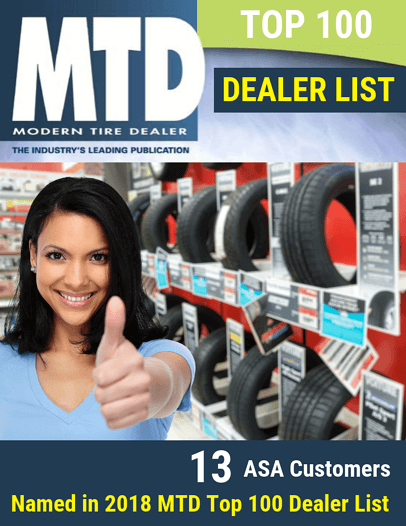 ASA Automotive Systems is proud to announce it serves 13 dealers on the newly-published 2018 Modern Tire Dealer Top 100, the industry magazine's annual list of top 100 independent tire dealers in the U.S. The list was published in August and represents the retail, commercial, and wholesale marketplace.
The 13 dealers represent a total of 880 locations across the U.S. that use ASA's TireMaster family of products to streamline operations and optimize their business performance.
An industry leader since 1989, ASA has been helping thousands of single and multi-site tire and auto service dealers throughout the US and Canada increase staff efficiency, car counts and customer loyalty. ASA's TireMaster software serves all segments of the market, from the largest independent chains to the single store owner operators. It addresses POS and back office functionality for retail tire and auto service shops, commercial and retread facilities, along with wholesale operations.
Last year at this time, ASA announced the launch of TireMaster GTX, an "all-in-one" business software with centralized accounting, localized POS and in-depth reporting tools especially developed for multi-site tire and auto service dealers. With the backing of its parent company Fog Software Group, and focus on the automotive industry sector, ASA has been able to take a best-of-breed software from a sister company and get it to market fast without experiencing missed deadlines and unfulfilled expectations. ASA already has well over 100 locations using the new TireMaster GTX software successfully.
Now in its 30th year, ASA is looking forward to continuing its commitment to serving its customers and the tire and automotive service industry. The strength of the organization: its people, partners and customers – all contribute to guide the software development efforts and maintain ASA's position as a leader in the automotive software industry.
So, get to know ASA's TireMaster family of products. You'll see why 13 dealers representing a total of 880 locations listed on the 2018 Modern Tire Dealer Top 100 dealer list rely on ASA's software for their tire and auto services business.