3 Ways to Heat Up Profits this Summer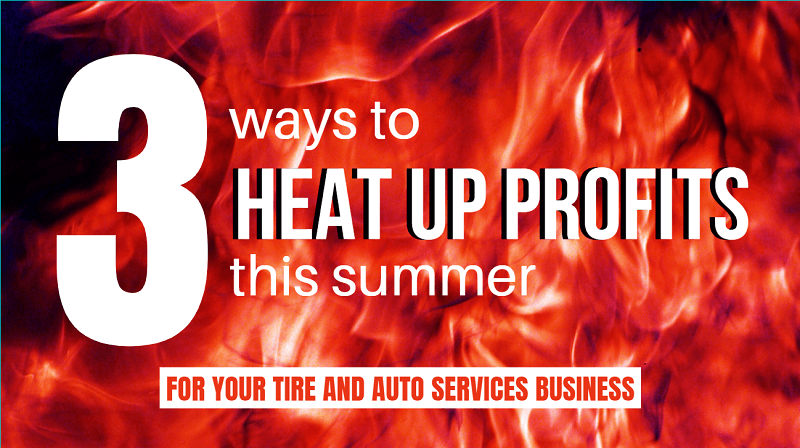 This time of the year is a perfect time to try out new tactics for increasing profits and building your customer base. The days are longer, the sun is shining, and everyone is in a great mood. We know this is one of the busiest seasons for your tire and auto services business, so thinking up new sales and marketing tactics might be challenging. With that in mind, we have made a list of our top three ways to heat up profits this summer to help get you started.
Offer summer specials and discounts. This is one of the busiest times of year for not only your shop, but your customers as well, as they set off on summer road trips! Motivate them to get their tires checked to improve safety while they are on the road and other preventative tune ups by offering a free car wash or carpet vacuuming with every service. Encourage new business by offering special discounts for first-time customers. Texting your database with a discount offer on 'Pre-trip Vehicle Checkup' services that expires at the end of summer is a great way to encourage repeat customers.


Build your online reputation by gathering positive reviews.These days, no one makes an appointment for anything without checking online reviews first. According to online reviews statistics, 84% of consumers trust online reviews as much as a personal recommendation.

While ranking your tire and auto services shop, Google takes into account your shop's star rating and total number of reviews on Facebook. Be sure to encourage your customers to leave a positive review on Google and Facebook if they enjoyed working with you!


Sell tires and services 24/7. e-Commerce is essential to keeping ahead of your competition. During the busy summer months, the only time a customer may find to purchase tires or schedule a service appointment may be after your storefront is closed. Make sure you are available to win their business with an online store and appointment scheduler to show your merchandise, services offered, promote your business, and process sales. Educate and impress your customers too by including detailed specifications and high-resolution images.
ASA offers 'All-in-One' point-of-sale, accounting and inventory tire shop software that will not only help you improve operations but increase profits, serve your customers better, and grow your business.
If you need help driving traffic to your shop, with digital marketing strategies including online reviews and reputation building across Google, Yelp, and Facebook, and selling tires online with an eCommerce site, contact us today.