November 2020
3 Ways to Rank Higher on Google Maps
For your Tire and Auto Services Business
These days, buyers are more empowered when it comes to purchasing any product or services, not to mention high-value items like tires and servicing their cars. Because they have search engines at their fingertips, they fully understand the world of tire brands and auto repair. Today's buyers are also knowledgeable about pricing, product comparisons and even what other users are saying about whichever brand they are considering.
Here's a fun industry fact - 55%* of consumers research online before buying tires and scheduling repair services. The question is "Are you in this picture when your customers are looking for tires and services?"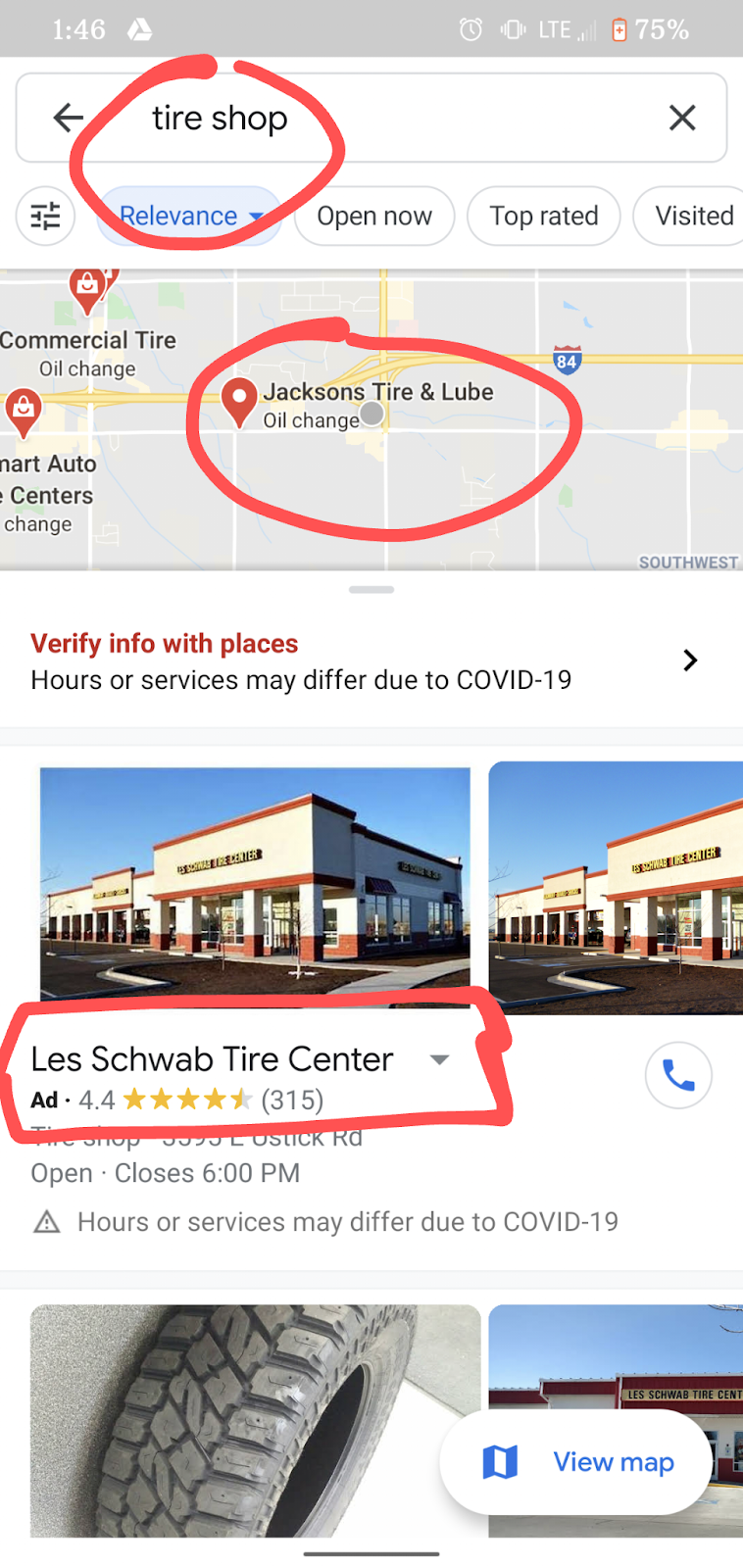 You need to think about how you can put your business on Google maps. Here are 3 baby steps to help you improve your local search rankings on Google:
1. Optimize your Google listings - 4 out of 5 customers use search to find local information, which means if your tire and auto repair shop is not optimized for local search, you could be missing 80% of your potential customers.
To improve your shop's local ranking, use Google My Business to claim and update your business information. You need to make sure your NAP (Name, Address, and Phone Number) are consistent across all business directories like Google, YELP, Facebook, Yellow Pages etc.
PRO Tips -
Add company description - Your Google business description is a summary that appears when a user searches for your tire and auto services shop or looks at your Google listings. The limit for the company description is upto 750 characters. Use this space to tell your story, what you do and why buyers should visit your store.
Add categories - Categories describe your business and connect you to your buyers who search for the products or services you offer. For example, if your primary category is "Tire Shop," Google may show your business in someone's local search results when they search for "tire rotation," "tire installation," "wheel alignment," etc.
Here's the Google support document with step-by-step instructions on how to add a company description and categories.
2. Promote your special offers on Google - If like many of our customers offering discounts on oil changes, wheel alignment, tire rotation etc. are one of your most effective promotional strategies, you need to promote your special offers on your store's Google My Business page.
Google recently announced it has changed how offers show up in Google local listings by giving offers a dedicated space within the local panel.
Here's how the offers would look on your GMB page.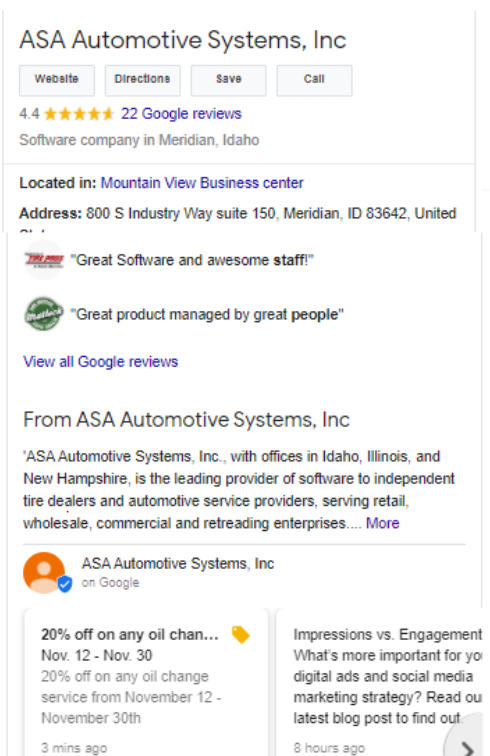 Just FYI - You can promote 10 unique offers at a time on your GMB page.
Follow these steps to create welcome offers and other unique offers on your GMB page.
3. Build your online reviews - As the tire and auto service industry operates in a highly competitive market with dealers selling the same tires and services at similar price points, you need to build your online reputation to stand out.
Online reviews play a key role in your prospective customers buying journey right from awareness stage to consideration to purchase as it:
Impacts your online search rankings – While ranking your tire and auto services shop, Google takes into account your shop's star rating, total number of reviews and your response rate. So make sure to encourage your customers to leave a positive review on Facebook if they enjoyed working with you and reply to them when they leave a review.
Improves trust – In an industry that lacks trust from consumers, 'digital word of mouth' in the form of online reviews and ratings is critical. According to online reviews statistics 84% of consumers trust online reviews as much as a personal recommendation.
Influences purchase decisions – 90% of consumers read online reviews before making a purchase decision. If your shop's online reviews are not at par, your prospective customers will keep looking for other options.
Implement these 3 steps for ranking higher on Google maps and watch more people come to your shop. It definitely takes time, resources and effort to optimize your local and web SEO, but the return on investment is terrific.
If you want the easy button, just fill out the form below and we'll do it for you :)
The question is not "Can you afford to get it?" It's "Can you afford not to?"
Along with the best- in-class tire shop software , ASA Automotive provides a full spectrum of integrated digital marketing services, including: social media, listings management, reputation building, integrated websites, Search Engine Optimization (SEO), Search Engine Marketing (SEM) and consumer-facing products to help drive traffic to your shop.