July 2017
9 Tips to Use Facebook, Twitter for Tire Dealers and Auto Repair Shops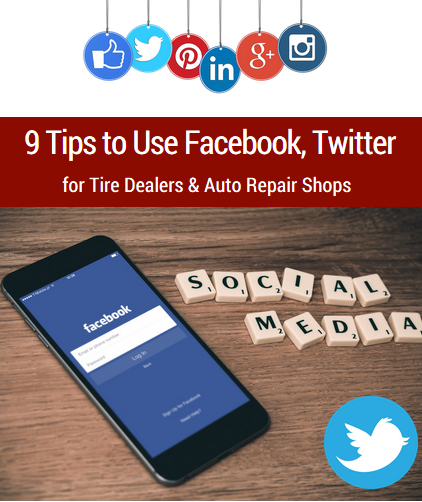 Social media matters for the tire and auto repair industry as it's the only non-intrusive way to talk to consumers directly and to get them what they need fast.
Speed is critical because when a car breaks down or needs a repair, the owner wants immediate results. That is where trust comes in. Consumers want to know their vehicle is in safe hands and, if they have a good experience, the sharing nature of social media encourages them to spread the word.
So you need to have a strategy. You need to have one or more social media accounts such as Facebook or Twitter. And you need to think creatively. Here are just a few ways to start:
Use Facebook to tell your story - The best novels grow chapter by chapter, which is a model you can use on your Facebook page. Each day or week tell your followers about a different part of your business, or profile a mechanic or member of your support staff. Within your business there are dozens of stories. Find them and tell them.
Include photos - A picture's worth 1,000 "likes." We're a visual society, so a good photo, or even just an interesting one, helps grab attention and makes it more likely that your online post will be read and shared. You can find free images to use online at sites like photopin.com and unsplash.com.
Host special Q&A's about tires and auto maintenance - This can be once a week or once a month, but make it a regular feature. You can use Facebook Live to take questions, or you can respond to questions sent in via Twitter. Whatever the platform, show the world that you are knowledge about their vehicles, which is the first step to building trust.
Start discussions - The next time there is a high-profile event involving cars — The Indy 500, NASCAR, the release of the latest "Fast and Furious" movie — use Twitter to get a conversation started about tires. Highlight the kinds of tires people are seeing on their TV or movie screens and explain their performance — And if there is a similar model they can purchase.
Become an influencer - Write a regular column (a blog) for your website and then promote it via Facebook and send a key sentence from the article out on Twitter. Write about changes in your industry and how they affect the consumer, talk about proper tire maintenance, things to think about during summer or winter road travel, etc. Become a voice that people will trust and business will follow.
Reward sharing - Each time one of your users shares content from your Facebook feed, identifies or posts a link to your company website on any social media platform, reward them with a promotion. Encourage sharing because it builds followers.
Go mobile - You have a website. But do you have a mobile version of that website? This is a must. Consumers get the majority of their information on their phones and you want a mobile-friendly site where they can get your essentials — days/times of operation, phone/address, emergency road service information, and more.
Reach out via text messaging and Twitter - Interact with your customers, but only when it is helpful. Sent them time-sensitive discount promotions or reminders when it's time to change their oil or rotate tires. Make them aware when it's time to get their tune-up and reward them for responding when they come through the door.
Respond in real time - Make sure you set your social media accounts to alert you whenever someone mentions you on social media. It doesn't matter if it's praise or a criticism. Get back to them and offer a response quickly. This lets them know someone is listening. Not only will it humanize your business, but it also shows that you care about what your customers have to say.