September 2017
Easy Ways to Increase Ticket Value and Revenue During Fall Car Care Month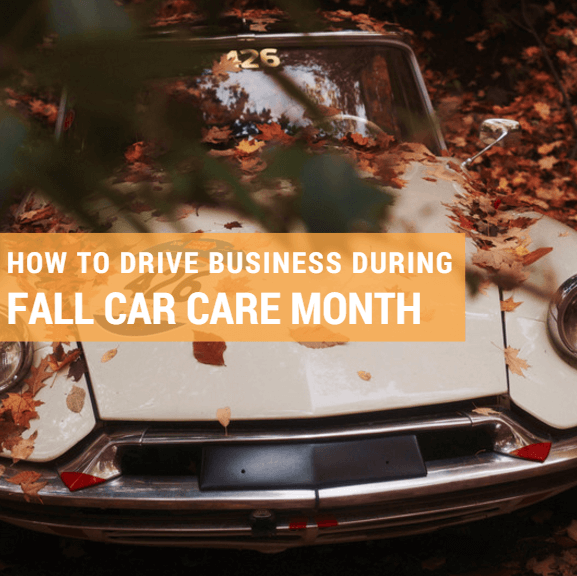 We are one month away from Fall Car Care Month in October. It's a perfect four-week opportunity to increase sales and revenue at your tire and auto services shop. Reach out to your loyal and prospective customers with maintenance tips and suggestions. Let them know that servicing their car now for the upcoming fall and harsh winter months will save them money, improve gas mileage and keep them safe on the road.
To help drive business during Fall Car Care Month and beyond, try these simple steps:
Send customers a checklist of maintenance that can be done easily at home. Tips can include examining all hoses and belts for wear and tear, checking the power steering, brake, transmission fluids and engine oil. Checking antifreeze/coolant condition of the filters and replacing windshield wipers can also be added to the checklist.
Follow-up with a checklist of maintenance that requires a professional. This can include reminding customers to keep up on their oil changes, to make sure their heat is working properly and ensuring the fluids have been replenished. Checking engine performance, charging the battery connection, inspecting the brake and exhaust systems, and examining the steering and suspension systems are also critical.
Winter is coming, so suggest a tire inspection. Besides checking the tire pressure and tread depth, determine if winter tires are needed. Also, do they have a spare? If not, explain why having one at all time, as well as a jack in working condition, is essential for those inevitable winter blowouts.
Blast out reminders on social media. October has 31 days, so use every day to send automotive service tips to your followers on Facebook, Twitter or Instagram. Each reminder about checking hoses and belts, the battery, the wipers, the HVAC system, etc., will reinforce the value of relying on their local tire and auto services shop.
Get your customers on a maintenance schedule. Explain to them that the best time to visit a mechanic is before you need one. Use tire shop software that offers a personalized schedule, texting and email reminder service. Matching the importance of regular maintenance to providing best value over the long term is the best strategy to keeping customers connected.
Offer customers an emergency kit or suggest they assemble one on their own. A pre-packaged kit is your customers' best friend in a breakdown on the road. This should include a fire extinguisher, a first-aid kit, reflective warning triangles, a tire gauge, jumper cables, a flashlight, foam tire sealant, duct tape, gloves, and more.
What are your ideas for Fall Car Care Month? What successes have you had in the past or what plans do you have this year? Leave us a comment below and let us know!