September 2023
Modern Tire Dealer 2023 Dealer of the Year: Wonderland Tire
A long-standing ASA customer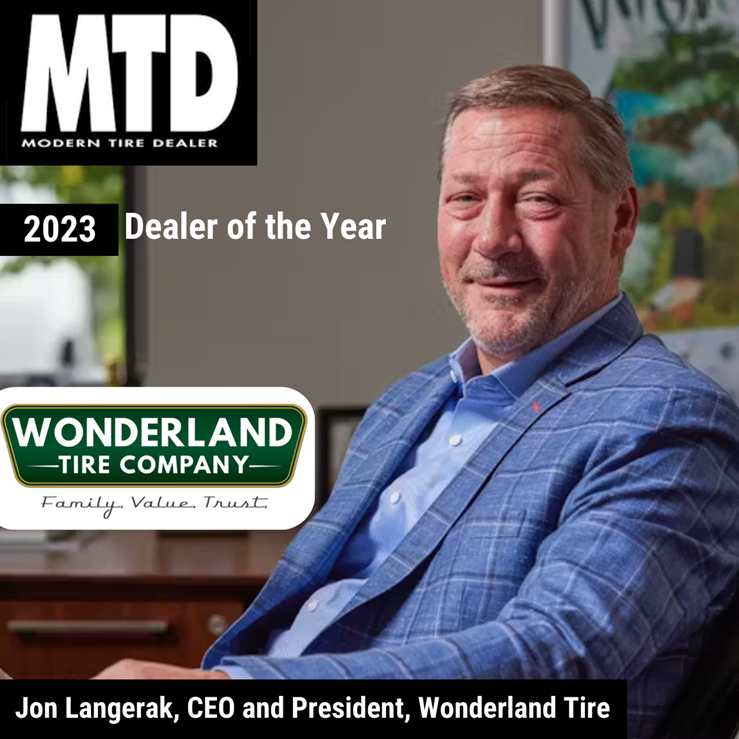 Congratulations to Wonderland Tire for being named the 2023 Dealer of the Year by Modern Tire Dealer (MTD). Well done!
Every year MTD selects one tire dealer for its annual Tire Dealer of the year award. It's an honor roll of inspiring innovators and leaders who have changed the tire industry.
Wonderland Tire joining this rank is a testament to their unwavering commitment to innovation, excellence, and exceptional customer service. Jon Langerak, CEO and President, Wonderland Tire is the architect behind the dealership's phenomenal growth over the last two decades — says there's still a lot to do. That includes keeping the dealership on its current growth trajectory. Under Jon's direction, Wonderland Tire has enjoyed 10% to 15% revenue growth year after year.
Explore Wonderland Tire's inspiring success story in the September issue of MTD. Learn how this industry-leading dealership, achieved remarkable growth and set new standards for excellence.
Wonderland Tire is a family-owned and operated tire company, with retail and commercial locations serving Michigan, Illinois, and Indiana. In addition to the tire service locations, Wonderland Tire owns two of the largest AcuTread plants in the U.S., and is expanding its manufacturing plants into Kentucky, Ohio and Tennessee.
From the expansive selection of tires for commercial, OTR, and recreational vehicles to 24-hour emergency roadside assistance, and mechanical services, including brake repair, suspension work and retread tires, Wonderland Tire provides a level of service beyond what you would expect from your average tire center.
Wonderland Tire runs ASA GTX Enterprise Software for having complete command and control of its entire enterprise and all its locations from its corporate office in Michigan.
"We selected GTX because it provides the best blend of retail, commercial, wholesale, and retread integration of any software on the market today," said Jim DeVries, CFO, Wonderland Tire.
ASA GTX Enterprise Software provides Wonderland Tire a centralized accounting service with store-level reporting, consolidated inventory views, localized POS solutions and real-time visibility into company data, so they have a complete, up-to-the-minute view into their overall business, as well as at each of their locations.