May 2021
Capitalizing on Your Customers' Love of the Great American Road Trip
Ensure that your customers' vehicles are ready for travel while growing your business at the same time.
WITH BETTER WEATHER AND LONGER DAYS ON THE HORIZON, FAMILIES ARE MAKING PLANS TO HIT THE ROAD THIS SUMMER. Relatively low gas prices mean they'll have lots of company. Ideally, vehicle maintenance is an ongoing proposition, but it's particularly important before a long road trip — especially in the heat of summer and to unfamiliar destinations off the beaten path.
The millions of Americans who take a road trip this year will increase service opportunities for tire stores, especially oil changes and related maintenance. Making sure your customers' vehicles are ready for travel by offering them the ability to fix potential problems before heading out for vacation can help them avoid the hassle and unexpected cost of a breakdown miles away from home—as well as remind them that you're looking out for their best interest, furthering customer loyalty.
To capitalize on this potential business, we recommend a few simple steps your shop can take that can make a big difference to your bottom line.
Offer Free Inspections
Make sure your customers' vehicles are running reliably for the summer driving season. This will lead to increased service and repair business. Inspections can be simple and straightforward, and shouldn't take much time or manpower to conduct.
During the course of a 10-minute inspection, check the following components on a customer's vehicle:
All fluids including engine oil, antifreeze/ coolant, windshield washer and power steering solutions, as well as brake and transmission fluids
Hoses and belts for signs of excessive wear, fraying and leakage
Wipers and interior and exterior lighting
Tires, including tire pressure and tread wear
Your inspector can also suggest rotating tires and checking/adjusting alignment.
Clean Your Customer's Vehicle
A clean vehicle makes for a more pleasant experience behind the wheel. Consider a full vacuum and exterior wash. The psychological benefits of hitting the road in a clean, well-organized machine will make your customer's trip even better and further endear them to your dealership.
Suggest an Emergency Road Kit
Suggest your customers pack some essential items in the trunk, just in case. The kit should include:
Jumper cables
Road atlas
First-aid kit
Flashlight with extra batteries
Portable tire inflator
Blankets
Water
Any needed medication
2021 is the Year of the Road Trip
Study reveals Americans are ready to travel, but not by plane.
During the global pandemic, America's roadways have been the most popular means of travel. According to a survey conducted by Chevrolet and research fi rm Harris Poll, 80% of those asked said that going on a road trip had been one of their happiest moments since March 2020. Forty-one percent said they roadtripped to a place they've never been before, which underscores an important element that's often left out of the planning process: preparing the family vehicle.
Ensure your customers' vehicles are ready for travel while growing your business at the same time.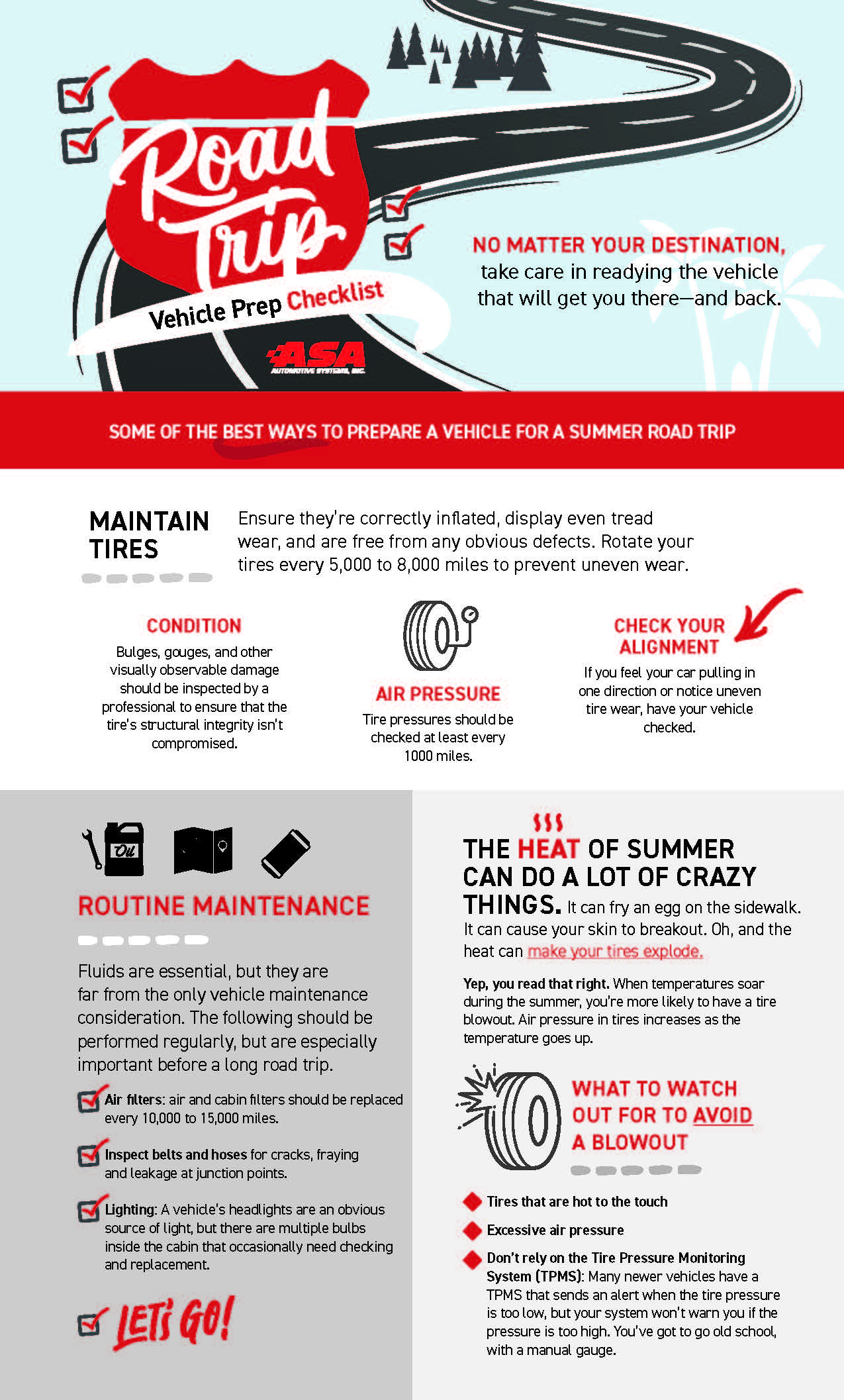 Download our Great American Summer Road Trip Vehicle Checklist infographic, a nice addition to hang in your showroom for customers to enjoy or use in your social media efforts.
It's yours absolutely free, from your friends at ASA.
Download here