September 2023
Trust the Best: 20% of MTD Dealer of the Year from the Past Decade Rely on ASA
17 ASA Customers Named in 2023 MTDs Top 100 List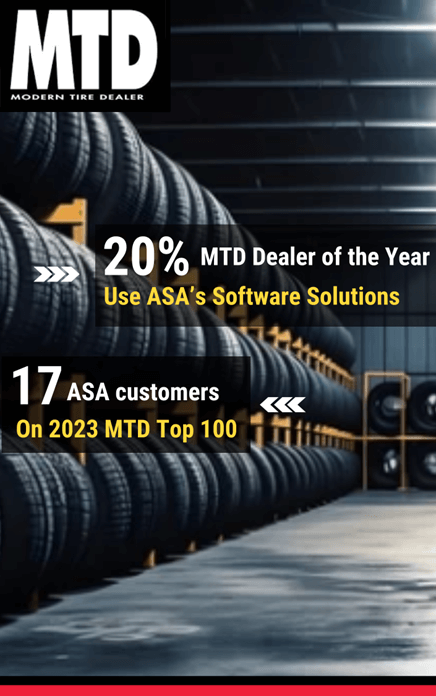 Did you know that an astounding 20% of the prestigious MTD Dealers of the Year from the past decade exclusively rely on ASA?
Every year MTD selects one tire dealer for its annual Tire Dealer of the year award. It's an honor roll of inspiring innovators and leaders who have changed the tire industry. It's incredible to see the sheer number of top-tier dealers in the industry who have recognized the exceptional value that ASA brings to their businesses.
Also, this year, 17 dealers have been named in the 2023 Modern Tire Dealer Top 100.
The list, published annually by the industry's leading magazine, showcases the top independent tire dealers in the United States. Published in July, this comprehensive list encompasses the entire retail, commercial, and wholesale marketplace, solidifying ASA's position as a market leader.
The MTD 100 provides in-depth insights into important details such as tire dealer ownership, the number of outlets categorized by retail, commercial, and combined retail/commercial, the number of distribution centers, and the tire brands carried by each dealership. You can view the 2023 MTD Top 100 list here.
At ASA, we take immense pride in our ability to serve the top tire dealers, who are at the forefront of the tire industry. "Having 20% of the dealers of the year winners as ASA customers is a testament to our unwavering commitment to excellence. The fact that we now have 17 dealers on the list, compared to 13 in 2018, demonstrates the significant increase in trust and loyalty that our TireMaster family of products and GTX has earned," said Dave Vogel, General Manager of ASA Automotive Systems. "The remarkable growth year after year is a testament to the quality and effectiveness of our software solutions."
The 17 dealers in MTD 100 represent a total of over 2000 locations across the U.S. that use ASA's TireMaster family of products and ASA's Enterprise software GTX to manage their operations, serve customers, and expand their business.
For over 34 years, ASA has been the trusted industry leader, helping thousands of tire and auto service dealers across the United States and Canada to optimize their operations. Our GTX and TireMaster family of products is designed to cater to every aspect of the market, from independent chains to individual store owners. It offers comprehensive solutions for point-of-sale (POS), back-office functionality, and digital solutions empowering retail tire and auto service shops, commercial and retread facilities, and wholesale operations.
We're thrilled to continue our commitment to delivering innovative solutions to our valued customers and the tire and automotive service industry. Our organization's true strength lies in our exceptional team, trusted partners, and dedicated customers, all of whom play a vital role in shaping our software development efforts – and maintaining ASA's position as a leader in the automotive software industry.
So, get to know ASA's Enterprise software GTX and TireMaster family of products. You'll see why 20% of the MTD Dealer of the Year winners and 17 dealers representing a total of over 2000 locations on 2023 MTD Top 100 list rely on ASA's software to grow their tire and auto services business.