April 2021
5 Simple Steps to Attract More Customers with Online Marketing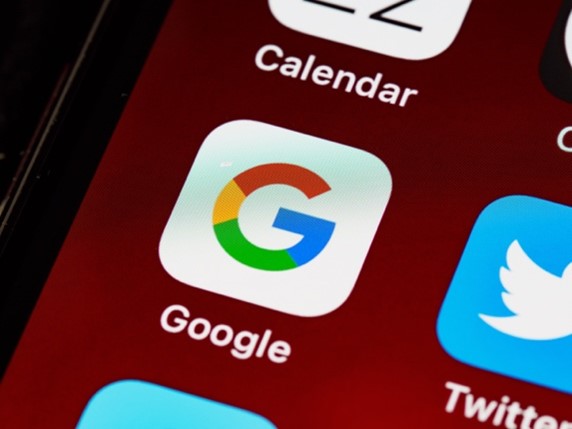 Get Found and Put Your Business on The Map Using Digital Marketing
The global pandemic has accelerated the shift towards a more digital world and the tire and automotive services industry is no exception. "Tire shops near me" searches have increased dramatically. Buyers are now looking for a completely frictionless experience and are far more inclined to purchase tires and book service online. Whether it's requesting a quote, scheduling appointments, or making payments, for them, online is the answer.
As a business owner, the key question to ask yourself is, "Can our customers find us online when looking for tire and repair services?"
If you're unsure of your answer, you need to put your business is on Google maps. Here are 5 simple steps you can take to get started:
Step 1 - Optimize your Google listings - 4 out of 5 customers use search to find local information, which means if your tire and auto repair shop is not optimized for local search, you could be missing 80% of your potential customers.
To improve your shop's local ranking, use Google My Business to claim and update your business information. Be sure to fill out every field that is intended to describe your business (name, address, hours, contact information, and all other attributes).
PRO Tips -
Add a company description - Your Google Business Description is a summary account of your dealership that appears when a user searches for "tire and auto services shop," or similar. The limit for your company description is up to 750 characters. Use this space to tell your story, what you do, and why buyers should visit your store.
Add categories - Categories describe your business and connect you to buyers who are searching for the types of products or services you offer. For example, if your primary category is "Tire Shop," Google may show your business in someone's local search results when they search for "tire rotation," "tire installation," "wheel alignment," etc. Here's a helpful Google support document with step-by-step instructions on how to add a company description and categories.
Step 2 - Promote your special offers on Google - If you offer discounts on oil changes, wheel alignment, tire rotation etc., one of the most effective marketing strategies you can use is to promote them on your Google My Business page. Google recently announced it has changed how these types of promotions show up in local listings by giving special offers a dedicated space within the local panel.
Here's how the offers would look on your GMB page;, and remember, you can promote 10 unique offers at a time on your GMB page: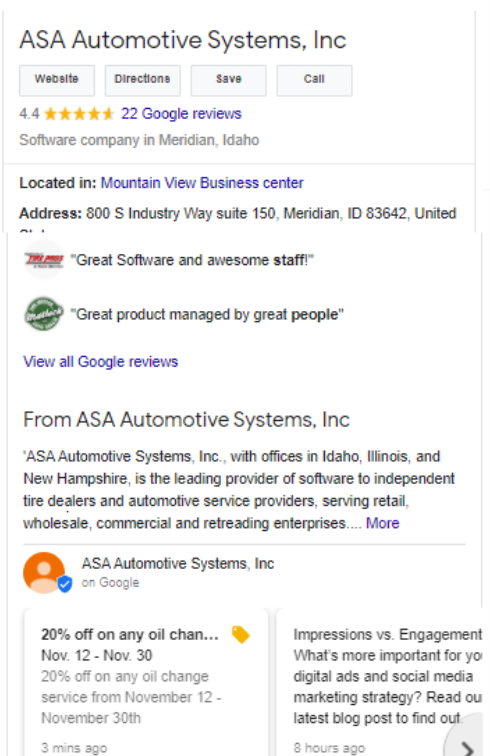 To create special offers on your GMB page, follow these easy steps.
Step 3 - Manage your business listings - According to world-renowned SEO specialists Moz, listing accuracy is Google's method for determining whether it can trust a local business search result.
Potential customers lose trust in local businesses if they notice incorrect or inconsistent contact details in online search results. If you have multiple listings on different review sites and online directories, make sure the NAP (business name, address and phone number) is consistent across all online directories, including Google, Yelp, Facebook, Bing, Apple, Yellow Pages etc.
Step 4 - Build your online reviews - Reviews account for 15.44%* of how Google ranks a local business. While ranking your tire and auto services shop, Google takes into account your star rating, total number of reviews and your response rate. That's why it's critical to respond to all reviews to improve your local search rankings. However, responding to reviews should not take you hours and hours. Try utilizing these online review templates instead and you can respond to far more reviews in less time.
Step 5 - Post on your social media channels - Social media is an integral part of the daily lives of almost everyone. If you're not taking advantage of social media by regularly posting content on your Facebook, Instagram, LinkedIn, and Twitter pages, you're missing out on the opportunity to connect directly with your customers. Just don't make the mistake of only posting once a week, remember, you're trying to build top-of-mind recall for your shop. Try to post something every day on social media if possible, the more times you can engage with your potential customers, the better chance you have of catching their attention.
Not sure what to post on social media every day for your tire and auto repair shop? Try these social media ideas for every day of the week.